HARPOLE VILLAGE SCARECROW FESTIVAL 2015
event details
the 16th annual harpole village scarecrow festival will take place on:
Saturday 13th & Sunday 14th September 2014
open from 11am to 5pm each day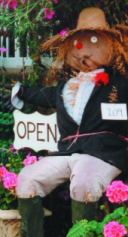 The Harpole Scarecrow Festival raises funds for a variety of village charities and community projects. We aim to provide residents and visitors with a weekend of simple traditional entertainment, which can be enjoyed by the whole family. Some visitors return year after year to see our scarecrow displays and many other activities.
Village residents are encouraged to create and display scarecrows of all shapes and sizes in their gardens and visitors can spend a delightful day meandering around our charming village – you will be amazed at the creativity of Harpole residents!

Why not enjoy the scarecrows from the open top bus that tours the village throughout the weekend? Or perhaps you prefer to browse the stalls, or stop for refreshments and a slice of delicious home-made cake. Just escape for an afternoon of simple family fun!
Car Parking - Free
Children under 16 - Free
Adults - £2 includes festival brochure. All proceeds from donations go to Harpole Village Charities fundraising projects.